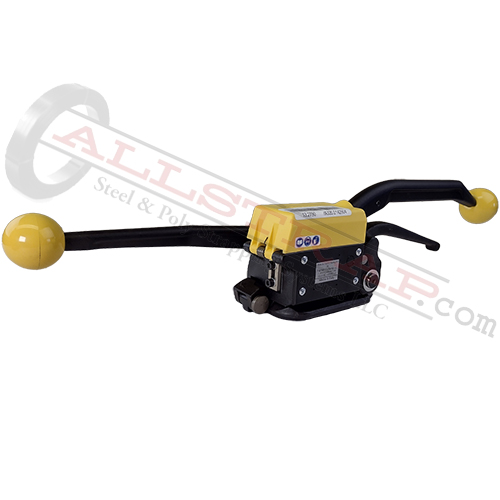 In Stock
---
Available Options
Fromm A335
Fromm A335 Steel Strapping Combination Tool
The Fromm A335 is a manual sealless combination tool for steel strapping. The Fromm A335 is a tried and true universal sealless steel strapping tool for all applications. The A335 is reliable, rugged, and service friendly. It is characterized by its simple operation, and by being lightweight. The A335 has become an indispensable helper in industry worldwide. Fromm's A335 can be set for 1/2", 5/8", or 3/4" steel strapping widths and can run regular duty or high tensile (HT) steel strapping from .020-.023" thick. The A335 has a tensioning system that prevents even minor tension loss to accommodate heavy duty strapping applications where tension and seal strength is critical. This Fromm combo tool can hold a joint efficiency better than an individual manual sealing tool.
Versatility:
Another perk about the A335 tool is that during transportation, if the pack tension, the seal will not unlock. This makes the shipped articles safe during shipment so the sender and receiver can be sure they will find their product in good condition upon arrival. With one of the highest joint efficiencies on the market, the Fromm A335 holds 80% joint efficiency. Made of high quality steel, its ground feedwheel and ground gripper provide for extra efficiency. The long steel handles allow for simpler operation for the user.
Other Options:
1. The competing ASC34.
2. Switch to 5/8" or 3/4" plastic strapping with the Fromm P329.
3. Use battery powered tools like the Grip Pack 114, or Golden Bear Yukon.
4. Manual tensioner like the MIP1610, and sealer like the FDNL.
5. Pneumatic sealless combination tools: Columbia INCA 12, INCA HT 16/19
Order Parts & Tool Repair:
Order all parts, including the A335 wear parts, online in the "Order Parts" tab below! Common A335 wear parts include:
Feedwheel A33.3143
Shear Blade A33.1120
Die Half A33.1137
Die Half A33.1138
Punch A33.2121
Gripper A33.2177
Catch Pawl A33.3137
Call Allstrap for an in-person demonstration. We keep Fromm tools in stock, and have more experience with HD strapping than anyone in the country.
Specifications:
Strap Type: High tensile (Ultraflex)
Strap Qualities: 1/2", 5/8", 3/4" x 0.020"- 0.023"
Sealing Type: Sealless
Weight: 8.6 lbs / 3.9 kg
Allstrap Opinion:
This is a very good strapping tool. However, we don't like the huge cost of the wear parts (up to $450 to replace), and prefer the Standard ASC (High Tensile version) for this reason. We do recommend purchasing this tool if you already have Fromm on your floor and want to keep everything the same.
Videos
Fromm A335 Steel Strapping Combo Tool Video
Related Products