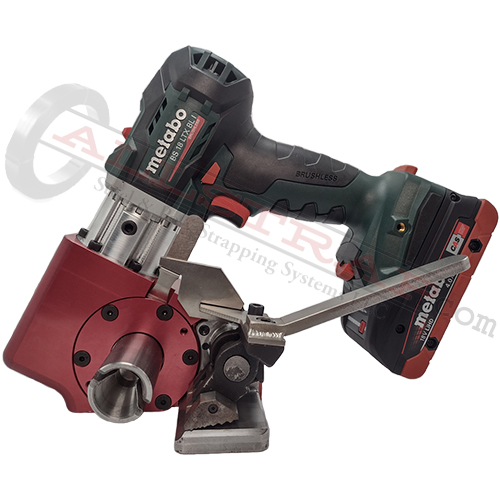 In Stock
---
Available Options
Golden Bear C11 Battery Tensioner
C11 Golden Bear Battery Powered Lashing Tensioner
Need an easy way to pull cord strap tight? This is the most convenient way to use cord strapping yet!
The C11 tool comes with 2 batteries (5-amp hour, 18-volt lithium) and a charger.

There are no pneumatic lines to drag, and the battery lasts up to 300 pulls.

This tool uses a patent pending method to drive the windlass tensioner. The standard C11 cord tensioner uses a Milwaukee fuel M18 to power it, or you can upgrade to the German made Metabo.

With the Metabo drill, chargers are available for the Americas, Europe, Asia, Australia, and Africa.

Some drill versions have adjustable tension. With the M18 fuel (with One key), you can set the tool through bluetooth for a specific tension. The Metabo has a dial to limit the torque. This lets you limit how hard you pull.

The drill was designed for tough outdoor use. It is perfect for loading rail cars and containers.

There is enough power for the most demanding loads, 2800 pounds of tension makes it the strongest tool on the market.
*Milwaukee Drill Model No Longer Available - Discontinued
Allstrap Opinion:
We highly recommend the Golden Bear C11 because of the simple operation and battery power. Losing the air line has been a major initiative in large US companies because of the trip hazard. Without an air line to pull behind you, you're free to take the tool anywhere. Roam through the warehouse, to a storage location, inside containers and in railroad cars. This tool is tough, and pulls massive tension! If you are looking for a lighter tool, use the C12HD (click to link). For the lightest cord strap tool, use the Golden Bear C12 tensioning tool.

Videos
Battery Cord Strap Tensioner C11 Golden Bear demo CC105 cord lash
Related Products