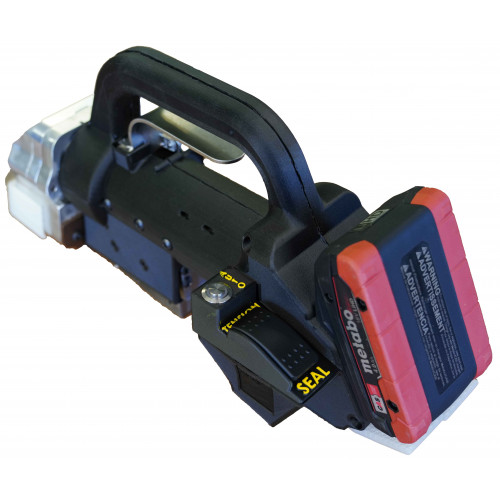 Usually Ships in 2-5 Days
Golden Bear's Kodiak Battery Powered Steel Strapping Combo Tool
The Kodiak battery powered steel strapping tool is the first tool to tension, seal, and cut 1 1/4" high tensile steel strapping! Speed up your line using the single button operation. Simply hit the automatic button, and the tool will pull up, seal, and cut all in one. Let the tool do the work, and there isn't even a second button to hit when using auto mode. You can also use the tension button for manual control. This button lets you jog it, and stop before you damage a telescoped core on steel coils. The seal button is will double notch the seal and cut the banding.
Versatility:
This revolutionary combo tool is lightweight at 14.6 pounds, which means you are not tied to an air hose and balancer. The battery power lets you lose the pneumatic hose to take the tool around the shop or yard. Kodiak is fast and strong, pulling 1,600 pounds of tension.
The lead time can vary, please use the contact us button on the top right of this screen to verify.
Specifications:
Strap Type: High Tensile/Magnus
Strap Width: 1 1/4 Inches
Strap Thickness: 0.025"- 0.031"
Tension: Up to 1,600 lbs. (7117 N)
Seal Name: 1.25 Inch Push Seal
Joint Type: Double Notch
Weight: 14.6 pounds including lithium battery
Allstrap Opinion:
The Kodiak is a great tool! This is the only tool on the market that pulls tension, and seals in the same tool. Traditionally steel service centers would drag around the PN2-114 pneumatic tensioner, and T the air line into a second RCNS2-114 sealer, and at the end of the cycle the PN would be bent up and down until the band breaks. NOT ANYMORE! Now, one tool does everything. Power is switching to batteries, and we can't wait to get this in plants! We helped develop this tool. Speed up your lines, and get this tool in your plant! This is great for eye ties on slit coil packaging line, or for a pipe line where the weight of a PRHR (and air line) is trouble. For push style steel strapping, we suggest the Kodiak tool.
Videos
Kodiak Battery Powered Steel Strapping Combo Tool
Related Products