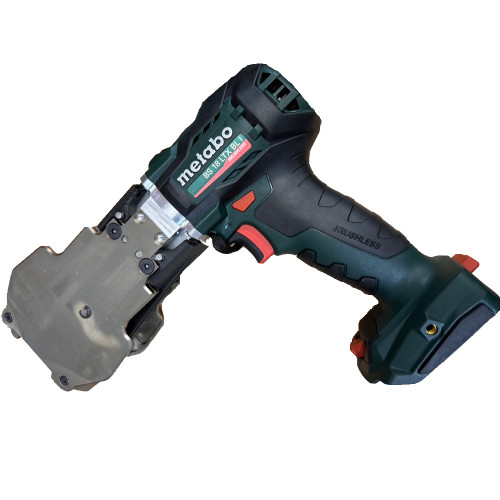 DN114 Battery Powered Steel Strapping Sealer
Golden Bear's newest tool is a battery powered steel strapping sealer. The DN114 pairs with the STB tensioner for 1 1/4" steel strapping for .029" or .031" steel strapping. The beauty of this tool is that it uses a Metabo driver (just like the C11 tensioner), which means we trust the motor and driver much more than in the Grip Pack sealer!

The tool is 8 pounds, or 9 pounds with the battery. That makes this tool about the same weight as the pneumatic tool with the air hose, the RCNS2-114, STP or A461.

Specifications:
Strap Qualities: High tensile (Ultraflex)
Strap Dimensions: 32.0 x 0.63 - 1.00 mm; 1 1/4" x .025" - .031"
Tensioning: Separate tensioner STB
Sealing: 1.25 Inch Snap Seal, 1.25 Inch Push Seal

Weight: 8 lbs.



Allstrap Opinion:
This is going to be a great sealer! If the battery combo tools Kodiak (15 lbs.) and BPT-H32 (19.5 lbs.) for steel strapping are too heavy, this is a great option to take the weight down! We suggest buying the Golden Bear DN114 battery powered sealer!