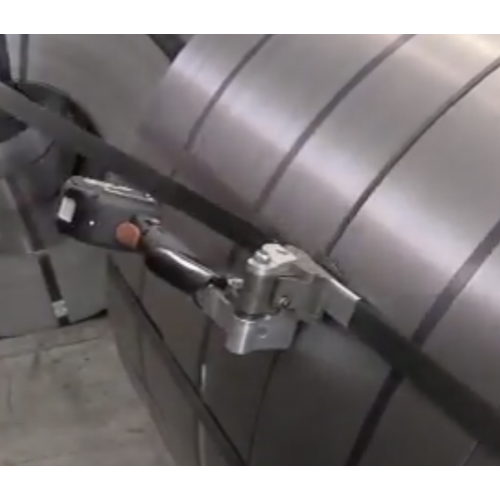 Itipack ITI84 Battery Powered Tensioner
The ITI84 is a battery powered feed wheel push type tensioner for steel strapping to secure round or irregular shaped packages. This banding tool is typically used in steel mills and metal service centers. The battery lets you lose the airline trip hazard, and gives mobility. The ITI84 is generally used with a battery powered sealer (ITI85 click to link). The ITI84 is well balanced, which is an improvement over the main pneumatic tools (PN2-114 and A452).
To eliminate the use of two tools to complete the strapping process, we recommend using a faster combination tool which tensions, seals, and cuts all in one tool. The best combination tool for 1 1/4" steel banding is the battery powered Kodiak, which replaces the common combination pneumatic Signode PRHR-114 or A483 steel strapping tools. Combination tools are a heavier, but also about 3 times faster. If the combo tool weight is too heavy, splitting the tensioner and sealer makes them a few pounds lighter.
Competitive tensioner tools are the Golden Bear STB, and the Signode Grip Pack 114 Tensioner.
Order Parts & Tool Repair:
Need your ITI84? Send it to our tool repair department for a quick turnaround. Call Allstrap for an in-person demonstration. We keep Signode tools in stock, and have more experience with HD strapping than anyone in the country. The PN2-114 is generally available rebuilt, please call for pricing.
Specifications:
Strap Qualities: High tensile (Ultraflex)
Strap Dimensions: 19 - 32 x 0.6 – 1.1 mm / .75" - 1.25" Wide x .024" - .043" Thick
Max. Tension: estimated Up to 1,000 pounds
Sealing Type: Metal push/closed seals 1.25 Inch Push Seal
Sealing: with separate sealer ITI85 or Grip Pack Sealer
Operation: 18 V Lithium-ion battery 4 amp hour

Weight: 10.4 lb. (4.7 kg)
Allstrap Opinion:
This tool is not yet on the US market, but we look forward to putting it through testing! We expect to see this tool at the end of 2022.