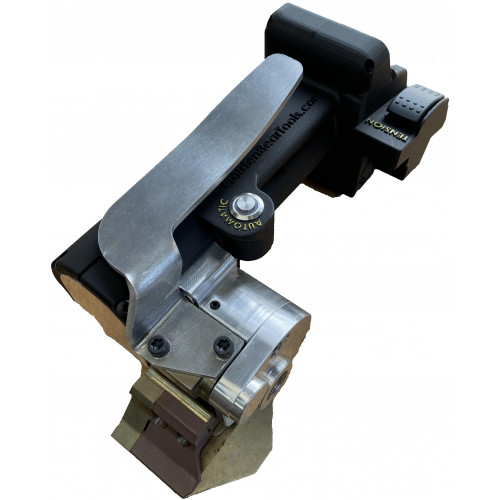 Golden Bear STB Battery Powered Steel Strapping Tensioner
The STB is the strongest battery tensioner on the market. This Golden Bear tool comes in at 9 pounds with no air hose, which makes it very mobile. Lose that trip hazard air hose, and switch to battery powered tools!
The STB battery powered steel tensioner pulls the strap tight, then seal with separate sealer like the grip pack double notch sealer 3/4" or 1 1/4" , grip pack single notch sealer 1 1/4", or BC114 HD sealer. This battery tensioner can run in automatic mode to do work with the push of just one button. Or, in manual mode the tension will stop when the button is released, the third button lets you reverse. The tension is adjustable up to 1,800 pounds.
Specifications:
Strap Qualities: High tensile
Strap Dimensions: 1.25" - .75" Inches wide x .025" - .035" Thick (.044" optional)
Max. Tension: 1,800 pounds (subject to change without notice)
Sealing Type: Metal push/closed seals
Weight: 9 lbs.
Cycles: up to 600 (depending on battery and load)
Motor: Brushless
Batteries: Lithium
Allstrap Opinion:
We like the STB. The Grip Pack tensioner was first to market, but the STB tool improves on some key areas. It feels like the Grip Pack tool is just a bit light, which makes it break down too fast. So if you need a tougher tool, the STB tensioner is it. The STB also uses a brushless motor, which improves strength and efficiency from the Grip Pack tensioner. We recommend the STB.
Videos
STB Steel Strapping Battery Powered Tensioner
Related Products