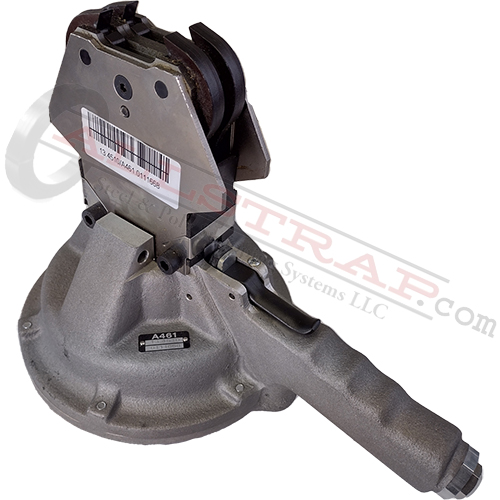 In Stock
---
Available Options
Fromm A461
Fromm A461 Pneumatic Steel Strapping Sealer




The pneumatic A461 Fromm steel strapping sealer is used with 3/4" or 1 1/4" steel strapping. It can be operated single-handed and applies an up-cut double-notch joint. The pistol grip makes it easy to carry. With one pull, the A461 applies the seal securely and smoothly, and is fitted with a safety mechanism that prevents defective seal joints due to faulty execution by the tool operator. This sealer is intended for use with the push-style Fromm A452 tensioner tool. These two Fromm tools are excellent for strapping large and hard to strap applications such as timber, metal beams, pipes, and other round or irregular shapes.




Other options:




Order Parts & Tool Repair:

All parts for the A461 can be ordered online on the "Order Parts" tab below! Here are the two common wearing parts for the A461 tool:




Notching Knife A46.2109

Cutting Jaw A46.2116

Need your A461 Repaired? Send it to our tool repair department for a quick turnaround.

Call Allstrap for an in-person demonstration. We keep Fromm tools in stock, and have more experience with HD strapping than anyone in the country!

Specifications:

Strap Qualities: High tensile (Ultraflex) up to 1100 N/mm

Strap Dimensions: 19.0 - 32.0 x 0.63 - 1.00 mm / 1.25" x .025 - .040"

Tensioning: With separate tensioner Fromm A452

Weight: 4.2 kg / 9.3 lbs




Allstrap Opinion:

We like the A461 if you're going to stay with a pneumatic. But many people can switch to 1 1/4" plastic strapping which are much easier to use, and safer. You should also consider the GripPack 114 Tensioner and GripPack 114 Sealer that are battery operated but provide the same seal efficiency and load security.
Videos
Fromm A461 pneumatic steel strapping sealer
Grip Pack 114 Signode Battery Steel Strapping Sealer
Grip Pack 114 tensioner vs. Signode pn2-114 and RCNS2-114
Related Products